Buy Fresh Kenya Tree Tomato Directly From Exporters & Suppliers - Best of 2022 Market Prices
Get Instant Quote
Selina Wamucii exports fresh and healthy Kenya tree tomato to the rest of the world, sourced from family growers. We also serve the local market.
The tree tomato looks like a medium sized tomato and tastes almost like a tomato, it is not a tomato. Its scientific name is cyphomandra betacea . It is a member of the soloanaceae family with tomatoes, potatoes and pepino. The origin of tree tomato is not well known but it is believed to have first been grown in the Andes of Peru and probably also in Chile.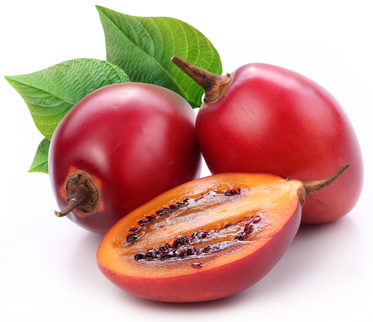 Tree tomatos bloom in early spring, producing fragrant pink flowers. It's this bloom that eventually give way to small, oval or egg-shaped fruit, reminiscent of plum tomatoes, hence the tomato tree name. The fruits from tree tomato are edible and vary between trees; they are much bitter tasting than the ordinary tomato. Its skin is tough, with colours varying according to its variety
The tree tomato is a subtropical tree and flourishes in altitudes of between 1500M to 3000M. It grows well where temperatures stay above 50 degrees F. But can tolerate temperature as low as 28 degrees F. Tree tomato tolerates many soil conditions as long as it is well drained, but compost –enriched soil is best for optimal growth. It also requires full sun, and protection from strong wind due to its shallow root system. Even though all optimal are provided, the lifespan of a tree tomato as about 4 years.
Just like the tomato tree tomato is susceptible to a number of problems. These
Health benefits 
The potassium deposits of this fruit build the cells and enhance bodily fluid functioning, all suitable for attaining proper heart rate and optimal blood pressure. This counters the bad influences of   Additionally, the fruit consists of a small column of such minerals as copper, manganese, magnesium, phosphorous , zinc and iron.
Tree tomato is a source of vitamin B-complex including thiamin, pyridoxine and riboflavin, all of which help to churn a faster rate of metabolism for a healthier, well-digestive bodily system.
Using the yellow or gold strain of tamarillo provides vitamin A which improves eyesight.
The yellow-hued variety consist of carotenes and xanthins, all of ehivh consist of antioxidant properties against bodily toxicity.
When you eat them raw, these fruits help in shedding the extra pounds for they reduce fatty content, while the juice from the fruit is a natural detox factor.
With its school of vitamins (A, C & E), the fruit guarantees a perpetually healthy skin, and antiaging qualities.
Finally, with its chlorogenic acid, the Kenya tree tomato is a windfall for those eager to overcome diabetes, through the lowering of blood levels in diabetes mellitus.
Ideas for using Kenya tree tomato
Making jam, preserves, jellies, relishes and marmalades.
Adding peeled, sliced tamarillos into salads.
Adding whole peeled tamarillos to casserole.
Bake or grill tamarillos like in vegetables.
We welcome you to order our Kenya tree tomato.
Get Instant Quote
Are you a producer of Fresh Kenya Tree Tomato or other products?
Apply to sell your produce directly to buyers worldwide.