Buy Kenya Plums – Suppliers & Exporters Directly From Exporters & Suppliers - Best of 2021 Market Prices
Get Instant Quote
If roses are red, then Kenya plums are plush. Is it the velvety purplish hue of the damsons, the inviting green tinge of greengages, the heartwarming orange of the mirabelles or the world-famous creamy red shade of Victoria plums you are hankering after?
With Selina Wamucii's vintage stock of Kenya plums during season, sky is the limit for the would-be sampler, whether European, American, Asian or local. We source from family growers an eclectic variety of rosy red, green and multicolored plums to suit all tastes.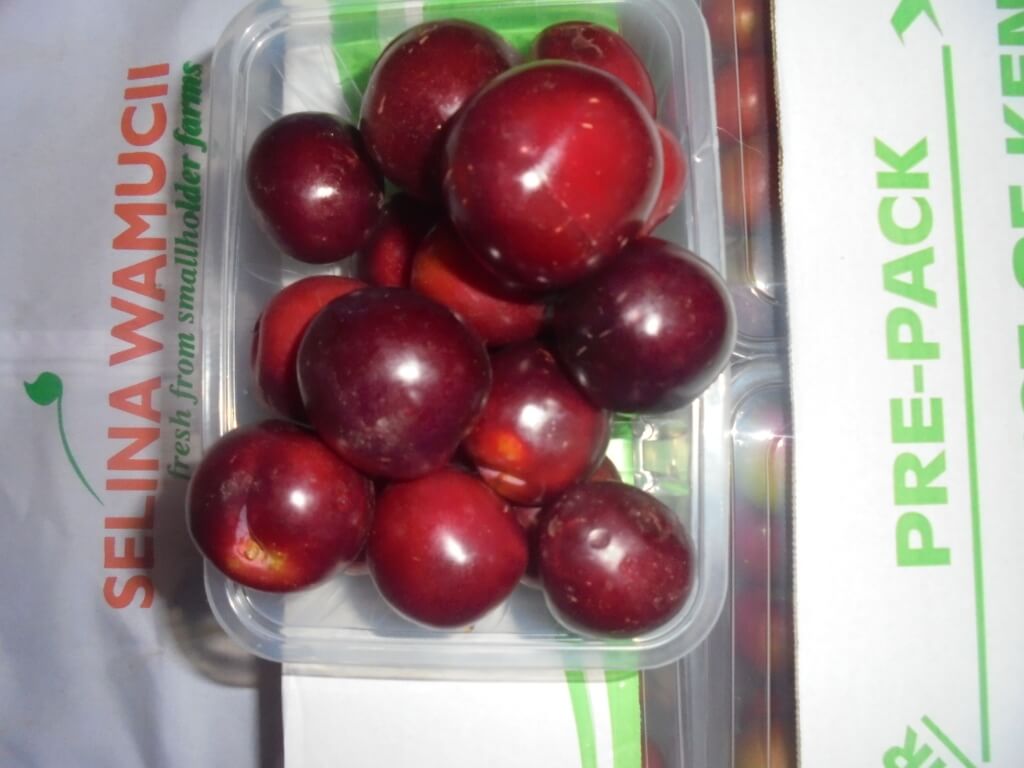 The Kenya plum, which usually flourishes in the Central highlands at the foot of the majestic Mount Kenya gleefully comes to fruition in mid-December and early January. Its season lasts up to the twilight of February. Plums are some of the most exclusive fruits in the world given the fact that they did not sprout much in the wild before humans domesticated them? In fact, among the best-known varieties, three have no trace of having an original habitat in the wild but, do, in fact, trace their cradle to European and Asian settlements of about 10,200 BC. Though many believe China to be the first home of the plum, nowadays the Japanese plum is choice among the world's population. This reveals a proud fruit that, long ago, grew side by side with other kingly species like olives, fig trees and grapes! Even in Kenya, the tree does not conform to the 'spread your wild oats' theory for you can only find it in its perennial majesty in select places in chosen homes.
The tree flourishes in cool and wet conditions. The species can attain a maximum height of 12m with an impenetrable canopy (when fully blossomed) of 10m wide. At between 1 and 3 inches in width, the juicy, delicious berry can be held easily between the thumb and forefinger to reveal its soft texture.
Given the choosy nature of growth conditions (at 2000m above sea level), it is no secret that the capital, Nairobi, being only a throw away distance from the highlands has to scramble for the fruit during its short spell of availability around December-February, before it finds equally eager consumers abroad.
This reminds one of the how the Kenya plum season can be a great yardstick for measuring the manners of locals and expatriates alike when it comes to handling the fruit. Across the street, most Kenyans usually rub the waxy coat of the red or green plum and munch away at it from its polythene package, while non-residents keep the taste buds afire by saving the best for last: they actually cook them!
Picking on the above, nutritionists have proven that the Kenya plum is healthy in a number of ways whether served as fresh fruit or a culinary delight. Whether eating them for their yummy qualities as jam, stew, or the most natural way, raw, plums ward off a number of health conditions. Their antioxidant qualities stow away toxins that cause tumors in the body. Studies also showcase the presence of a high degree of fiber or sorbitor at 1.4 dietary grams, sufficient as a laxative against constipation and other colon problems.
Since ancient times, this blossom, fruit or tree as it is synonymously called, has served folks with a number of eating formulas. If you like the taste of ale but do not want alcoholic drinks, then you can go for the salty, vinegar wine, a plum drink. It is also 'no holds barred' for the secret admirer of icy toppings that can look like a factory ice-cream only that they are natural! Indeed, baobing, as it is called in the Far-east is a must have ice-topping ornamented with red plum shaving, on top, to make for a gourmet wonder.
So whether you are munching away at the aromatic vanguard of salty, spicy or creamy plums, the choice is yours: come to Selina Wamucii, the most promising home of fresh Kenya plums at their most red and pink, all in the season! We pack the fruit while still green for it continues to ripen at room temperature, before keeping it in a cooler to shun further ripening. This is for clients who want to get hands on the delicious berry during a long shipping period. We follow stringent packing processes, usually handpicking each piece along with its protective waxen creamy coat and keeping the fruits in special conditions still with their orchard bloom, awaiting unpacking.
We source from family growers to satiate the ever-growing local and international. Selina Wamucii is truly the high street for fashionable rose-red Kenya plum species. You are welcome to place your order.
Get Instant Quote
Are you a producer of Kenya Plums – Suppliers & Exporters or other products?
Apply to sell your produce directly to buyers worldwide.