Buy Kenya Arrowroots Directly From Exporters & Suppliers - Best of 2022 Market Prices
Get Instant Quote
Selina Wamucii provides high quality Kenya arrowroot to the local and export market. We source our Kenya arrowroots from family growers in Kenya.
Kenya arrowroot is one of the most productive and high-value crops that a family grower can ever harvest. This is because it is rarer than other tubers and its monetary value just like its nutritional content keeps perennially at a high.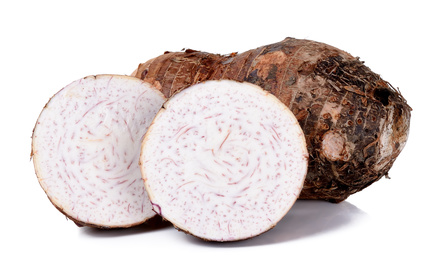 To grow arrowroots, it is essential to have a perpetual clear source of moisture, probably a stream that can offer the rootstock plenty of coolness to sprout from the ground. The plant grows on any elevation as long as it is 300 meters above sea level, but with plenty of moisture to compensate for lack of altitude. The plant sprouts from suckers that, with regular watering and manuring conditions, will mature in half a year. It is essential to provide spacing of about 30 by 20 centimeters square with a planting depth of 20 centimeters. Trenches act as the best way to allow harnessing of water for the plants to grow without competing for the vital resource.
The maturity of Kenya arrowroots begin with the onset of color depreciation in the elephant-ear light green leaves with visible vines that run across the broad surfaces. When they change to either a wilted condition, brown or yellow color, this signifies that they are ready to uproot.
Harvesting of Kenya arrowroots begins by excising the deep-seated tubers from their waterbeds using a hoe or blunt machete. Farmers usually keep an eye on the root to reduce damage on the tuber.
To eat arrowroots from Kenya and other tropical countries is a treat. Indeed, the original home of the plant in the Americas, where it had been under cultivation for over 7 millennia, had the indigenous people there refer to the plant as 'aru-aru,' meaning meal of meals because of its richness and use as a staple food. In Kenya, the arrowroot or nduma in Kikuyu language commonly features in family meals in mashed, salad, boiled or roasted form. It is a delicacy around the globe in a number of ways.
The nutritional capacity of Kenya arrowroots is arguably more starch-rich than many other tubers. It consists of 23 percent starch which can provide energy to a high performance athlete. Traditionally, the juice from the tuber has featured in treating poisonous wounds especially since the sap draws forth the toxin in the wound to the surface, a common practice in indigenous tribes of the Americas. Major nutrients and disease-combating elements include:
Fibers for fighting gastronomical and digestive problems.
Vitamin B complex like thiamin and pyridoxine for improving general health.
Iron, phosphorous and manganese improve bone structure in individuals who have no ready access to animal products.
Selina Wamucii's Kenya arrowroot is source from family growers in the heart of the mountainous highlands with clear streams that help in its growth.
Get Instant Quote
Are you a producer of Kenya Arrowroots or other products?
Apply to sell your produce directly to buyers worldwide.